"What's the menu tomorrow? "
I think this question will always automatically comes into my head
every Friday night
...hehehe... It's starting to become one of my habits
(beside nail biting :p)
On Friday nite, just backed from my bf's place...in my room, getting ready to bed
(you know....girl's stuff, washed off the cosmetic, brushed teeth and so on),
on the phone with bf for like a minute saying
good nite
, turned of the light! .......... Then that was the part when
the question poped-up

.
Again, turned on the light, grabbed my recipe collection books while picturing what ingredients left in my mind.
Finally
, I decided to make
chocolate cupcake
.
Easy and delicious :)
I ran out of some of the ingredients and substituted with everything that I have and hopping it will turn out okay. Cuz last time when i decided to fill strawberry jam into my strawberry cupcake
(which was not in the original recipe)
and it turned out bad :( Anyway..... this time I succeeded .... hoorrayyyyy......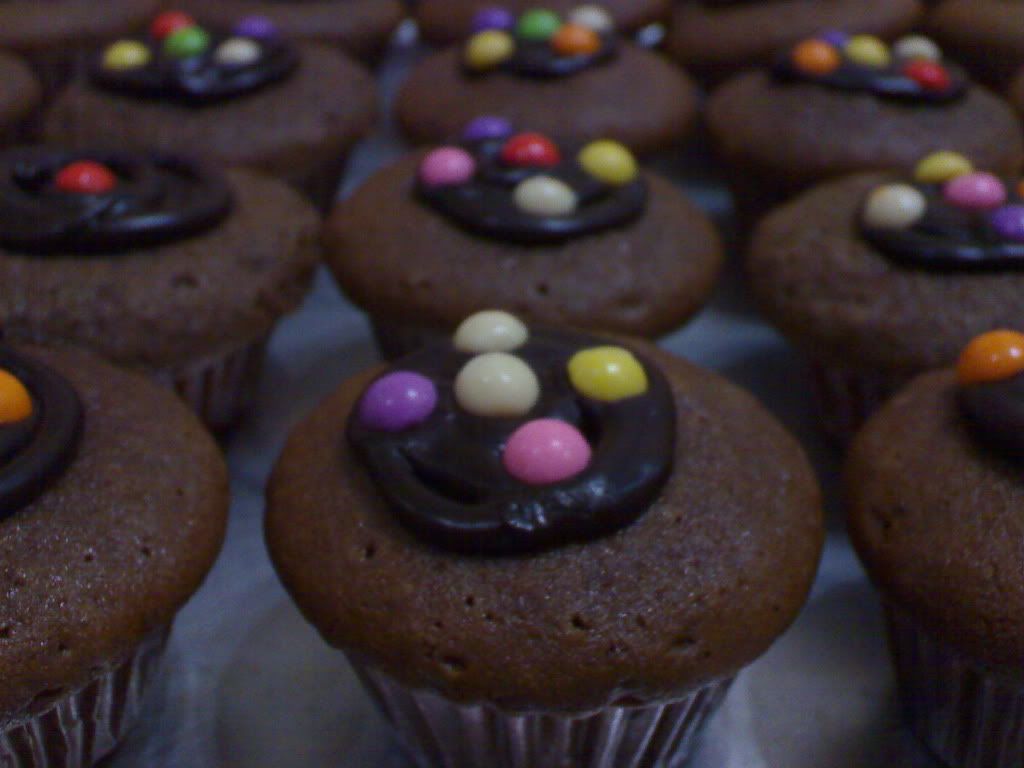 Chocolate Cupcake
(Original from "sahabatnestle" Smarties Cake, I made twice the recipe and it yields about 60 cupcakes with small size muffin pans)
Chocolate cupcake:
3 tbsp "Nestle Dancow Chocolate flavour" (dissolved in 100 ml of water)
*
250 g Milk cooking chocolate, cut into small cubes
***
1. Prepare the muffin pans and line with baking cup paper. Set aside.
2. Mix butter, sugar and vanilla until soft.
3. Add in the eggs, one at a time and mixing until soft.
4. Pour in 1/3 of milk and 1/3 of mixed flour. Mix well with rubber spatula in each additions. And do the steps with the remaining milk and mixed flour until finish, and mix well.
5. Scoop into each lined muffin pans.
6. Bake in 180 C for 30 minutes or until a toothpick inserted in the center and comes out clean.
7. Remove from the muffin pans and cool completely on a wire rack.
8. Top with the chocolate frosting.
Melt the chocolate, remove from heat and stir in the cream. Stirring until become silk texture.
* For twice of the recipe, I used 5 tbsp of Dancow Fullcream and 2 tbsp of Unsweetened chocolate powder and 200 ml of room temperature water. Sieve the mixture to get rid of the clump.
** I don't have Smarties in my fridge so I used coloured chocolate chips.
*** I used dark cooking chocolate and cream and it's not enough for making twice of the recipe :p so.... I just used whatever left. 150 g Dark cooking chocolate and around 5 tbsp of cream left :p. But it's enough to frost all 60 cupcakes.