I've been searching the
perfect birthday cake for someone who loves strawberry
...and I've found one in
dianasdesserts
website, the
"Strawberry Birthday Cake"

.
The photo was very tempting and I decided to make one for my bf's 30th birthday. I was so excited since this is my first time to make a birthday cake. I prepared all the ingredients from a week before except the strawberry, we need a fresh one for the cake...right?? This cake uses lots of strawberries. Believe me....cuz I bought 1.5 kg and only few left in my fridge now :p
(I had them the next morning with plain yoghurt for my breakfast......hm..yummy and not to mention it's healthy)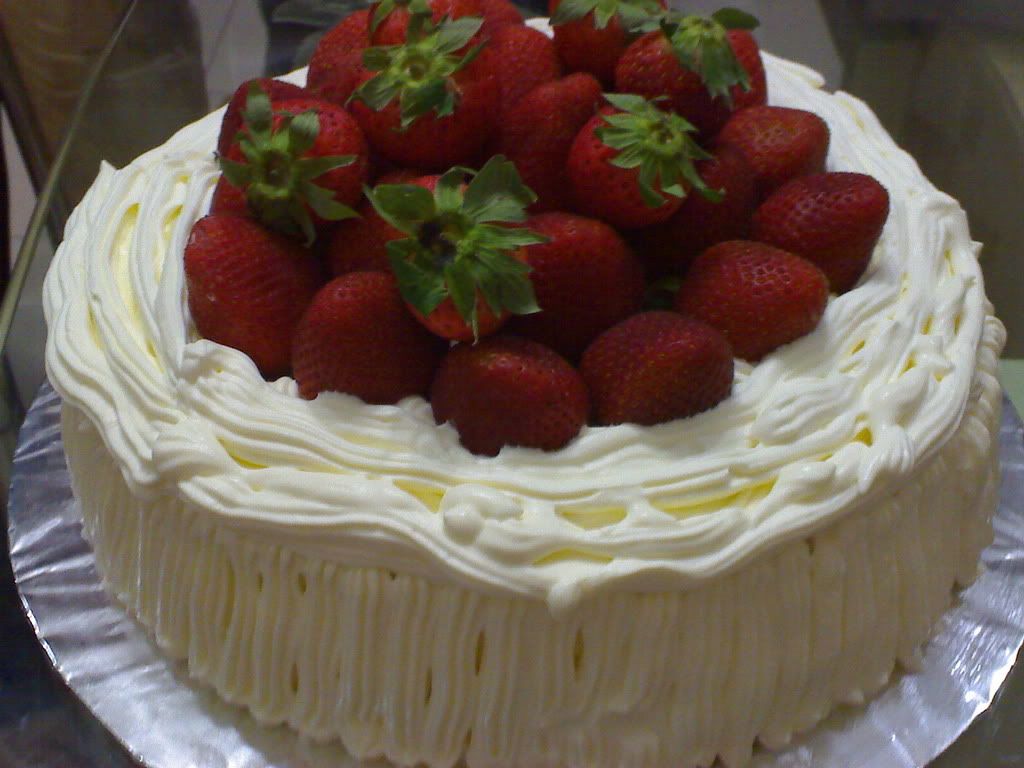 This is also
my first time
to whip cream. My oh my..... I ruinned 'em about 3 times. They were over whipped and became like milk and butter :( It was supposed to use like 1 liter plus and in my case, I have used around 2 liters, my cake still stood on my table with terrible whipping cream on here and there.
Arghh.... it was already 2 o'clock in the morning.
And no way, I must left it unfinished in the fridge :( I ran to supermarket the next morning, back home to continue and again they were overwhipped. Finally, i asked my bf to get some on the way to my home hehehe....
I didn't want to tuck 'em in the bin, instead I put it in my fridge, wrapped, and maybe I can be able to use 'em. Lucky I didn't throw them out, cuz
my mom made custard filling for choux pastry hahaha.....good job, mom.
Finally my cake's ready for the mid-nite show :p, put some candles on and let him make a wish at exactly 12am, July 15th.
After all, I was not bad for a first timer :)
even it's a mess inside :p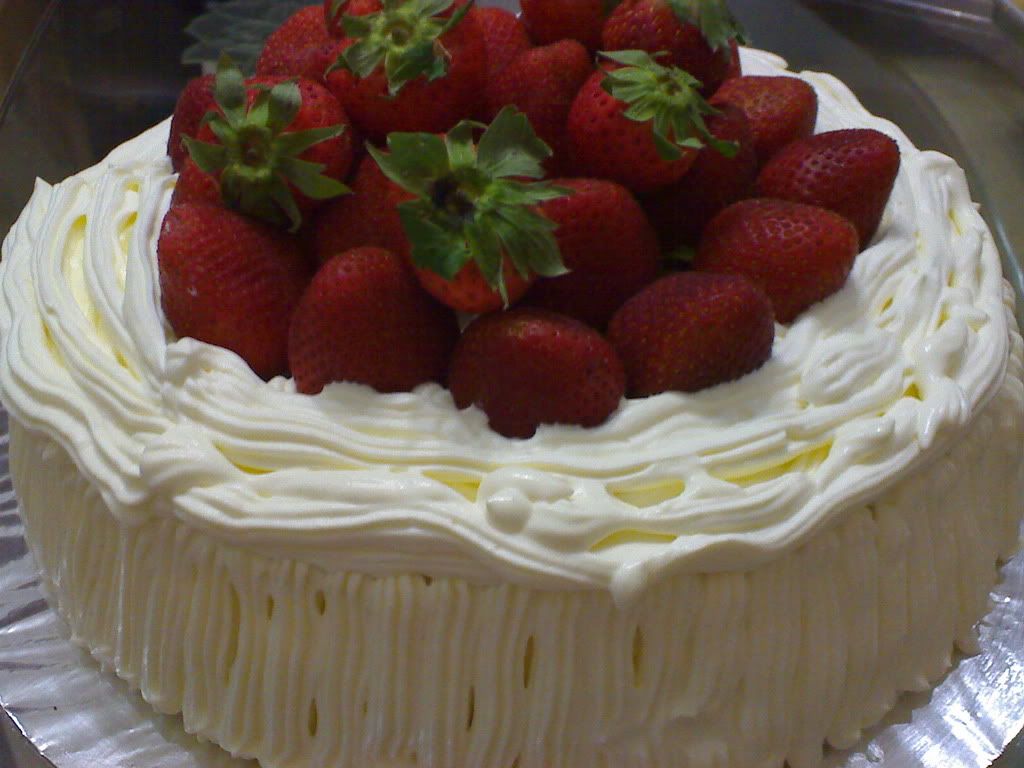 Strawberry Birthday Cake
Ingredients:
2 cups All purpose flour
1 3/4 cups Sugar
1 tbsp Baking powder
1 tsp Salt
3/4 cup (1 1/2 sticks) Unsalted butter, room temperature
6 Large egg whites, beaten to blend
1 cup Whole milk
1 tsp Vanilla extract
1/2 tsp Almond extract
(* I don't use, afraid of he doesn't like it)
For Filling and Decorating:
4 1/2 cups Chilled whipping cream
1 cup Strawberry preserves
2 pounds Strawberries, hulled, sliced
1 pound Strawberry, hulled
1 1/2 pounds Marzipan (optional)
** I don't use either
1. Preheat oven to 350 F. Butter two 9-inch round cake pans. Line with parchment paper; butter paper. Dust pans with flour.
2. Combine first 4 ingredients in bowl of electric stand mixer. Add butter and mix with whisk attachment until mixture resembles moist crumbs.
3. Add milk, egg whites and extracts. Mix until smooth, about 2 minutes. Pour batter into prepared pans, dividing evenly. Bake until tester inserted into center of cakes comes out clean, about 25 minutes.
4. Cool 10 minutes. Turn cakes out onto racks and cool completely.
TIPS: Can be prepared 1 day ahead. Wrap weel with plastic and store at room temperature.
Filling:
5. Using long serrated knife, cut each cake layer evenly into 2 layers. Using electric mixer, beat 2 1/2 cups cream in large bowl until firm peaks form.
6. Place 1 cake layer on platter or cake plate. Spread cake with 1/3 cup strawberry preserves. Arrange strawberry slices evenly over preserves. Spread enough cream over strawberries to cover (about 3/4 cup). Repeat layering cake, preserves, strawberries and cream two times, top with remaining cake layer. Spread remaining whipped cream over top and sides of cake.
Decorating:
7. Using electric mixer, beat remaining 2 cups cream in large bowl until firm peaks form. Place whole strawberries over top of cake, points up, leaving 1 1/2 inch border. Using pastry bag fitted with large star tip, pipe cream up sides of cake in vertical lines. Frost top border of cake with remaining whipped cream. Refrigerate until whipped cream is set, about 2 hours. (*Can be made up to 6 hours ahead)