Actually I made this last month, reque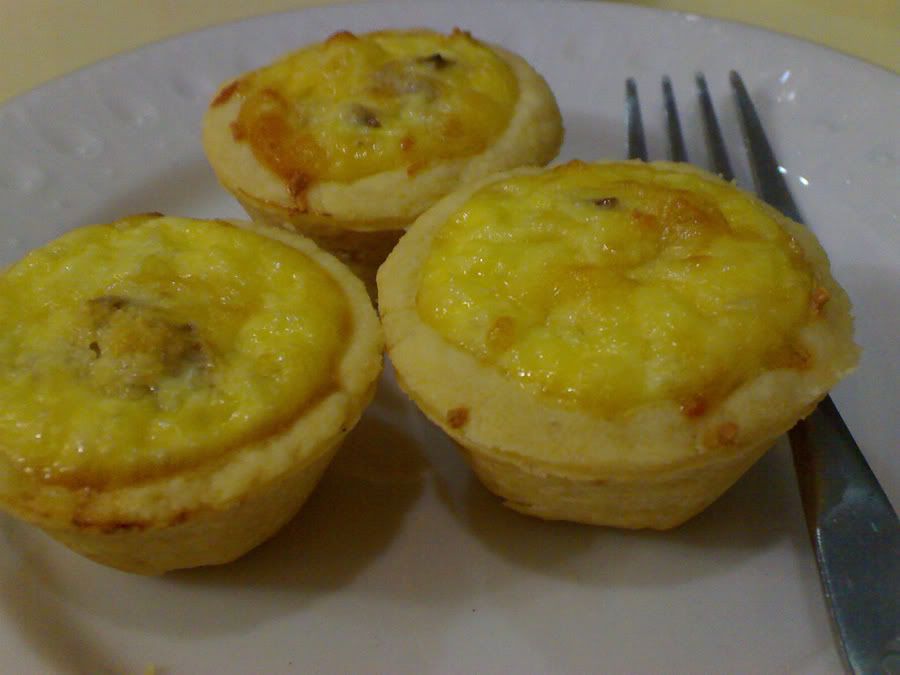 sted by a friend of mine and by chance I found this
cute Mini Quiches
from
vania's blog
. I must agree with vania, it's absolutely delicious. I couldn't stop myself from snacking on them. Especially when it's just out from the oven...hm...
warm

,

soft

and

cheesy
. So
small
and so
cute
.... I couldn't stop to have one .... and one.... and another one while arranging 'em into a container to go. If I wasn't thinking of my weight, I think I probably had them all, enjoy 'em myself with
a glass of ice lemon tea
, while also enjoying
a good movie
:p Definitely I'd put this one on
my top lists
.
Highly recommended!
I even doubled the recipe and none of 'em left :)
Makes 24 cute mini quiches :)
1/2 cup milk
1/2 cup heavy cream
2 large eggs
1 large egg yolk
Pinch of freshly grated nutmeg
Coarse salt and freshly ground pepper
All-purpose flour, for work surface
1/2 recipe Pâte Brisée
3 ounces finely shredded Mozzarella & Cheddar cheese
2 ounces cooked smoke beef, cut into 1/4-inch pieces
1 ounce cooked button mushooms, cut into small pieces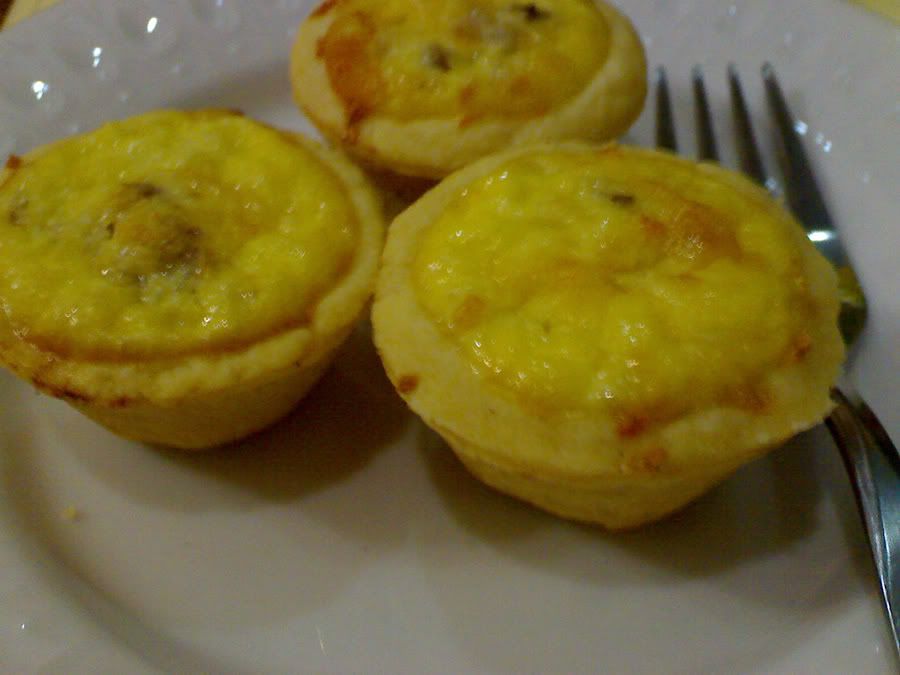 1. Preheat oven to 375°. Heat oil in a nonstick skillet over medium heat. Add smoke beef and cook about 2 minutes, transfer to paper towel to drain. Add mushrooms to the same skillet, reduce heat to medium low, and cook about 2 minutes. Set aside.
2. In a medium bowl, whisk together milk, heavy cream, eggs, yolk, and nutmeg. Season with salt and pepper. Strain through a sieve into a medium bowl; set aside.
3. On a lightly floured surface, roll out pâte brisée to slightly less than 1/8 inch thick. Use a 2 3/4-inch round cutter to cut out 24 rounds. Fit rounds into a 24-cup nonstick mini muffin tin. If the pâte brisée becomes too soft to work with, place in refrigerator to chill for 15 minutes. Divide half of cheese evenly between the lined cups. Top with mushrooms and smoke beef. Divide milk mixture evenly between cups. Top each with smoke beef. Sprinkle with remaining cheese.
4. Bake until puffed and golden brown, about 30 minutes. Remove from oven; immediately remove quiches from muffin tin, and transfer to a wire rack. Serve warm or at room temperature.
Pâte Brisée (Pie Dough)
Makes 1 double-crust or 2 single-crust 9- to 10-inch pies
Pâte brisée is the French version of classic pie or tart pastry. Pressing the dough into a disk rather than shaping it into a ball allows it to chill faster. This will also make the dough easier to roll out, and if you freeze it, it will thaw more quickly.
2 1/2 cups all-purpose flour
1 teaspoon salt
1 teaspoon sugar
1 cup (2 sticks) unsalted butter, chilled and cut into small pieces
1/4 to 1/2 cup ice water

1. In the bowl of a food processor, combine flour, salt, and sugar. Add butter, and process until the mixture resembles coarse meal, 8 to 10 seconds.
2. With machine running, add ice water in a slow, steady stream through feed tube. Pulse until dough holds together without being wet or sticky; be careful not to process more than 30 seconds. To test, squeeze a small amount together: If it is crumbly, add more ice water, 1 tablespoon at a time.
3. Divide dough into two equal balls. Flatten each ball into a disk, and wrap in plastic. Transfer to the refrigerator, and chill at least 1 hour. Dough may be stored, frozen, up to 1 month.
Note:
As what I did with the Pizza Tartlet before, same method by using hand, chilled bowl hehehe... I don't have the machine. Manual worked out just fine :p Just try to keep them not getting warmer while doing it and be quick cuz our body have warmer temperature than using a machine.