I had lots of time last
Saturday
:) for myself. My boyfriend was already made appointment with his
TOYS
:( , airsoft guns...you know,.
where a bunch of man with gun toys running around, hiding, crawling etc... hehehe...
And most of all, I took over the kitchen all for myself :p. The
master
was away to
"puncak"
with her daughters and sons in law, sons and daughters in law, grand daughters/sons.
By the way, the master was my grandmom, hehehe...
she's staying with us since I was a kid. That's why my mom doesn't cook, unless my grandmom's away. Eventhough, my mom is not an expert in cooking...to us (my dad, me and my brothers) her cooking is still a hit :)
So, I made
1 Bowl Choco Cupcake
, recipe taken from
vania's 1 Bowl Chocolate Cake
. At first, I was intended to pipe
chocolate ganache
on top, making some swirlly look. But, because of me trying to look like an expert, reffering to no recipe, just simply did, no measurement, and it turned out to thin. It came out like this picture :p
I wanna have
more chocolate ganache
on top but didn't want it all came down and dropping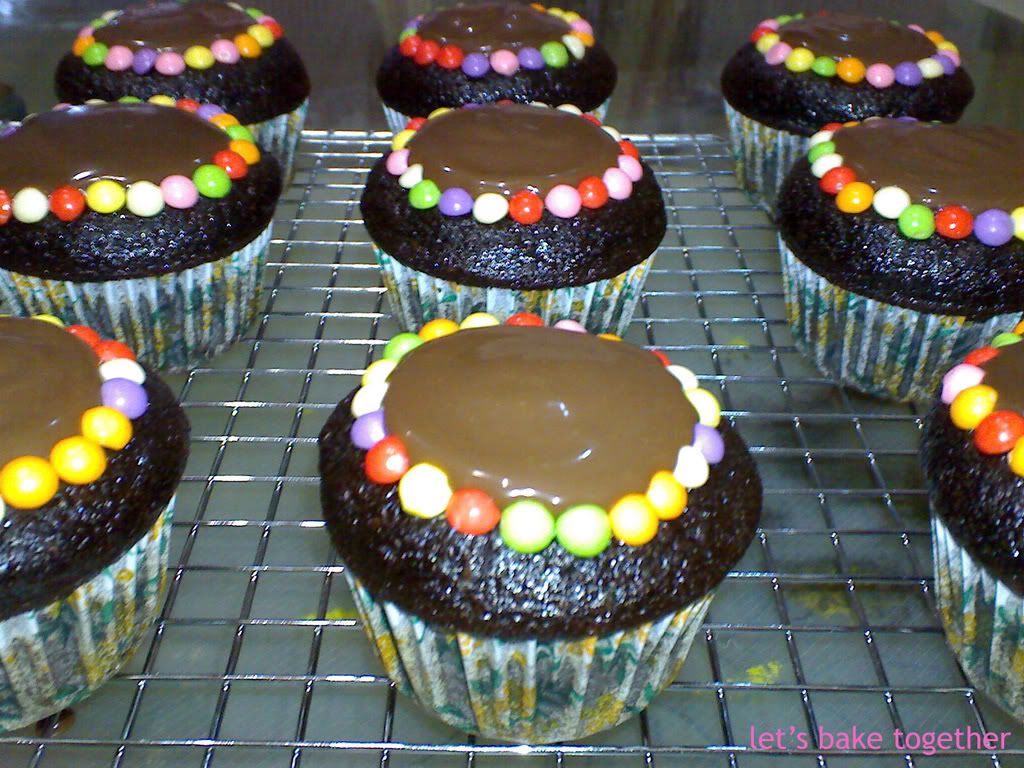 on my cooling rack. So, I decided to do a
"circle-fence"
from
coloured chocolate chips
...hahaha... Lucky I was in the mood and arranged one by one of the choco chips, making sure that the shape is circle, picking the colours and at the same time, I must raced with my niece who was snacking on the chips and asking for more every few seconds. I didn't want my chips ran out before my cuppies finish decorated :p. I personally like this recipe, I'll definitely use this recipe again for other version :) In fact, I am thinking to do with this recipe for
my own birthday cake, which is just around the corner...
:p
(...this is only if I'm in the mood by that time hehehe...)
Those who like to try, you can click
here
. The easiest cake to bake.