At the first
I just wanted to relax at home or go for body treatment. Hm... message.... :) I really need it. Especially my legs screaming out loud for the last few days. The effect of 5 minutes running catching my bus to office hehehe... *
Quick Excercise
, that's what my boss call it from seeing me trying to catch my breath every morning* hahaha. It's been a while i don't go to that place. But I don't feel like driving that morning, maybe next week I'll call up to schedule :p
So, this morning my mom step into the kitchen. She always does that when my grandmom not around. She hates seeing many things and unused sitting on her kitchen. And she was about to throw some over cooked banana into the bin. My baking sense instantly jumped in and stopped her *hihihi* I took the
banana
and ran upstair flipping my recipe book. And I picked this recipe cause I have all the ingredients in my
magic box
*hahaha*, that's where I put all my baking needs, away from my grandmom's reach *hahaha* She loves to move thing and misplace, and by the time you need it you'll have to go into each cabinet. And since they're alway not in your sight you forget and they're just stood there until the expiration date :p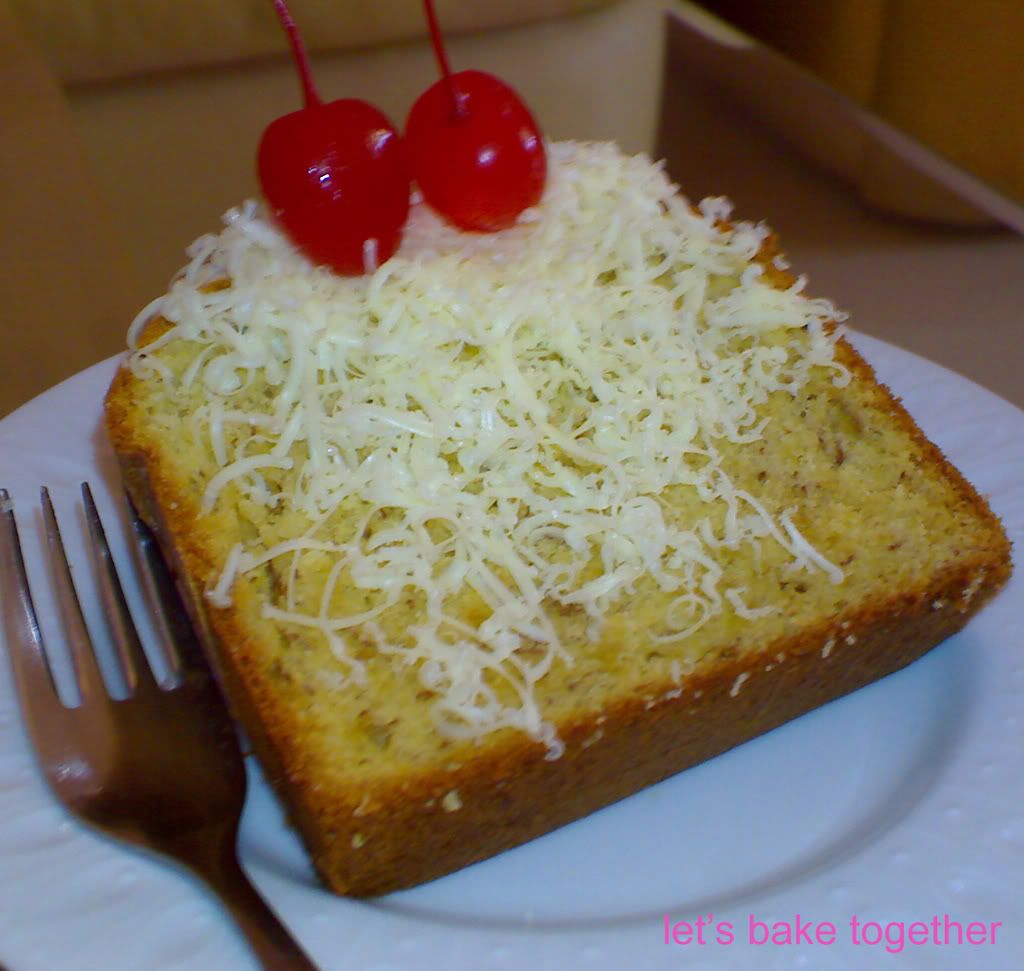 The banana cake
was a hit. Even my mom who usually comments "so so" for every cake I've made so far, this time she said this is good and just like the one sold at the cake shop *I put up my happiest smile ever to her :)* The is very soft and not to sweet. And it's even tastier if you serve with grated cheddar cheese :) Here's the recipe.
250 g Banana, mashed *I mashed about 3 bananas, that's what left :)*
3 sdm Nestle milk CAP NONA *I used other brand of condensed milk*
150 g Butter
175 g Powdered sugar
4 Egg yolks
4 Egg whites
Sift together:
200 g All purpose flour
25 g Nestle Dancow Fullcream
1/2 tsp Baking soda
1 tsp Baking powder
50 g Sliced almonds for sprinkle *I skipped this one*
1. Mix mashed banana and condensed milk, set aside.
2. Put butter and sugar in the electric mixer and beat until soften. Add in the egg yolks one at a time and continuing to beat.
3. Add in the banana mixture alternately with flour mixture. Mix well.
4. Using the electric mixer, beat the egg whites until stiff. Fold into the mixture and mix well.
5. Pour into the greased 22 cm loaf pan. Sprinkle with almonds.
6. Bake in the oven with 180 C for 45 minutes. *my oven takes around 10 minutes longer* So be sure you keep checking the cake maybe your oven takes shorter or longer baking time.
7. Take out from the oven and let it cool.